The other day I ran across a gentleman who was trying to install brand new SSDs into his VRTX chassis. He was getting an error telling him that the status of the SSD was in a Blocked state. In fact, after remoting into the CMC, all his SSDs were in a blocked state: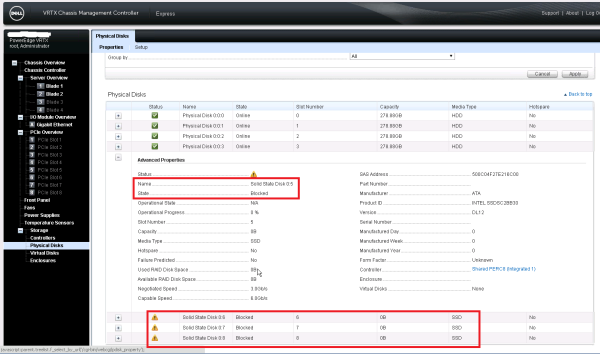 Wow, I hadn't seen that error before. After doing some research and asking him what he was trying to accomplish it was discovered that he was trying to add the SSDs to his current virtual disk in his Shared PERC 8.
The problem was that the Virtual Disk was created using regular hard drives. You cannot mix regular hard drives and SSDs in the same Virtual Disk.
Here is a link to the Dell PDF: https://topics-cdn.dell.com/pdf/poweredge-vrtx_User's%20Guide_en-us.pdf 
See Page 7
I also went ahead and took a screenshot of the PDF, in case Dell updates the link:

Anyway, time to order more hard drives.