Introduction to AWS Direct Connect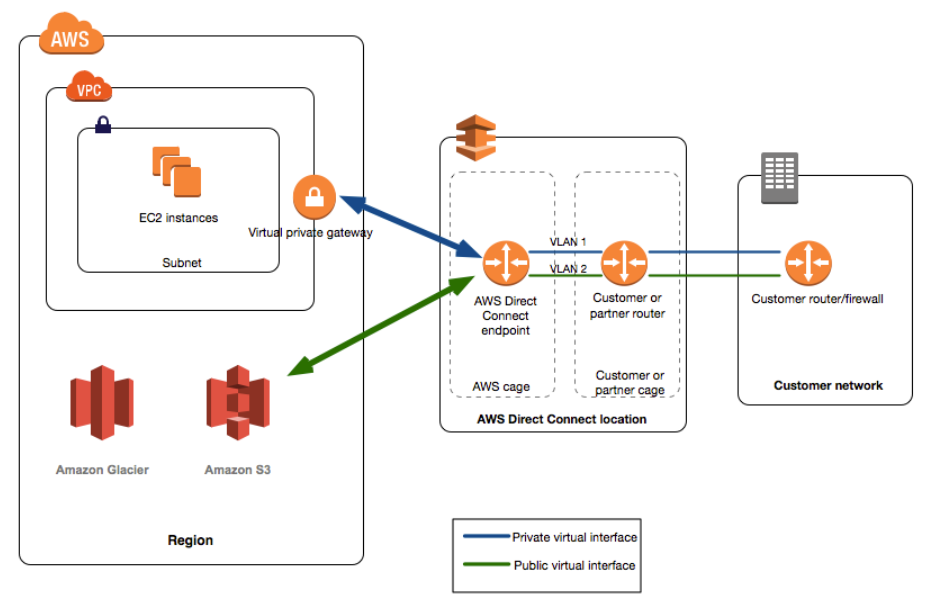 AWS Direct Connect makes it easy to establish a dedicated connection from an on-premises network to Amazon VPC. Using AWS Direct Connect, you can establish private connectivity between AWS and your data center, office, or collocated environment. This private connection can reduce network costs, increase bandwidth throughput, and provide a more consistent network experience than internet-based connections.
Direct Connect Key points
Direct Connect is a network service that provides an alternative to using the Internet to connect customer's on premise sites to utilize AWS cloud services.
AWS Direct Connect Partners can help users to extend their preexisting data center or office network to Direct Connect location.
Direct Connect gateway is a grouping of virtual private gateways & private virtual interfaces.
Each Direct Connect connection can be configured with one or more virtual interfaces.
Each Direct Connect location enables connectivity to all Availability Zones within the geographically nearest AWS region.
Direct Connect location provides access to AWS in the region it is associated with, as well as access to other US regions (in case of a Direct Connect in a US region). e.g. , you can provision a single connection to any AWS Direct Connect location in the US and use it to access public AWS services in all US Regions and AWS GovCloud (US).
Direct Connect connection can be established with 1Gbps and 10Gbps ports. Speeds of 50Mbps, 100Mbps, 200Mbps, 300Mbps, 400Mbps, and 500Mbps can be ordered from any APN partners supporting AWS Direct Connect — one end of the cable connected to your router, the other to an AWS Direct Connect router.
User can associate VPCs owned by any AWS account with a Direct Connect gateway owned by any AWS account.
Private virtual interface and Direct Connect gateway must be in the same AWS account to use Direct Connect gateway functionality.
When using Direct Connect gateway, users traffic will take the shortest path from their Direct Connect location to the destination AWS Region and vice versa regardless of the associated home AWS Region of the Direct Connect location that user are connected at.
Users can advertise up to 100 routes over each Border Gateway Protocol session using AWS Direct Connect.
Direct connect locations can also access the public resources in any AWS Region using a public virtual interface.
Users can associate up to three AWS Transit Gateways to a Direct Connect gateway as long as the IP CIDR blocks announced from their AWS Transit Gateways do not overlap.
Direct Connect Benefits
Reduced Bandwidth Costs: First, by transferring data to and from AWS directly, you can reduce your bandwidth commitment to your Internet service provider. Second, all data transferred over your dedicated connection is charged at the reduced AWS Direct Connect data transfer rate rather than Internet data transfer rates.
Consistent Network Performance: Direct Connect provides a dedicated connection and a more consistent network performance experience as compared to the Internet which can widely vary
AWS Services Compatibility: Direct Connect is a network service and works with all of the AWS services like S3, EC2 and VPC.
Private Connectivity to AWS VPC: Using Direct Connect Private Virtual Interface a private, dedicated, high bandwidth network connection can be established between your network and VPC.
Elastic: Direct Connect can be easily scaled to meet the needs by either using a higher bandwidth connection or by establishing multiple connections.
Simple: The console provides a single view to efficiently manage all your connections and virtual interfaces.
Direct Connect Use Cases
Transferring large data sets.
Real-time data feeds.
Hybrid environment — Cloud and On-Premises.
Create virtual interfaces directly to AWS cloud. (e.g. to EC2 & S3 and to VPC, bypassing Internet service providers in the network path)