Think of the the Server Manager as the focal point for installing, configuring, and managing your computer's roles and features.  Server Manager replaces W2K3's Manage Your Server, Configure Your Server, and Add or Remove Windows Components.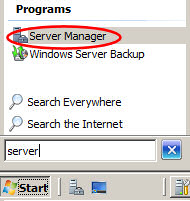 The Windows 2008 version of Server Manager is intelligent enough to work out dependencies and to install any necessary underlying services automatically.
Click on the Windows 'Start' button on the Task bar
Type 'Server' in the dialog box
Double-click the Program 'Server Manager.
The install tactics for Windows Server 2008 are to get the files copied and the operating system running as quickly as possible.  After a minimal install, and the appearance of the GUI, you need to configure items which will be unique to your computer, for example, the Administrator's password and a suitable computer name.
The Server Manager is also the place to revisit if you later want to join your server, however the sub-menu changes from Initial Configuration Tasks to: Server Summary.
Once your Server Manager appears, scroll down to bullet point 3) 'Customize This Server'.  Now you can click on 'Add roles' or Add features.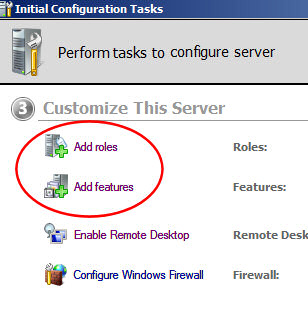 Add Roles Wizard
A role describes and determines the major job of a server, for example Terminal Services.  Some roles have their own second level Services Wizard, for example, the File Services include the option to install DFS and Search.  [IIS not installed by default].  See more on Windows Server 2008 Add Roles
Add Features Wizard
Features are secondary factors such as backup, which transcend a number of roles.  This wizard replaces Add or Remove Programs in previous Windows systems.  One welcome new intelligence is the way the wizard installs any dependent services.  For example, if you add PowerShell it also install the .Net Framework feature.  My bet is that if you review Server Manager's Features, you will find at least one new 'gem'.  See more on Add Features.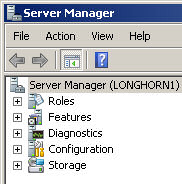 The Server Manager is the hub of Windows Server 2008.  This is the place to Add roles and features and then check that they are configured correctly.
In addition, the Server Manager provides snap-ins for Diagnostics, Configuration and Storage.
Server Manager goes right back to the days of NT 3.5.  However, in Windows Server 2003 it took a back seat in the form of, 'Configure your Server' or 'Manage your Server'.  At the time, these Configure or Manage Server menus seemed an unnecessary restrictive layer, consequently, I preferred to invest time in creating an MMC console and then adding my favourite snap-ins.
Now in Windows Server 2008, the Server Manager's GUI provides welcome structure, rigor and organization, consequently, I for one am happy to follow its signposts which point to the best features of this operating system.
While 'Add Roles' and 'Add Features' catch the eye, remember that you can troubleshoot services and make configuration changes through this central interface.  It is even possible to manage local user accounts.
After you have used Server Manager for a while you will tend to focus on the Server Summary.  These facts and figures are arranged in two main categories, Computer Information and Security information.
To return to the beginning, the first time you enter the Server Manage is to set basic information such as the computer name and time-zone.  My point is that this is also the place to change such basic information as Firewall settings or Remote Desktop.
Server Manager Command Line
Windows Server 2008 encourages us to use the command line.  The rational is that for some tasks it's quicker to type a few commands than to drill down 27 levels with the mouse.
While PowerShell is the most famous new scripting language, ServerManagerCmd.exe is a simple command just for installing or removing Windows Server 2008's roles and features.
I suggest you begin with:
ServerManagerCmd.exe -help
Then try
ServerManagerCmd.exe -query  (See what you have already)
Next comes the switch -install <id>.  Here is where you need to research precise values for <id>, for example TS-Terminal-Server or Print-Services.  Really you need a crib sheet for these <ids> as you have to be precise and cannot always guess the correct value.
Registry Values
I can never resist a registry hack.  When you very first logon, you are grateful for the ICT (Initial Configuration Tasks), but later you may dismiss the menu.  If you want to reset the value in the registry, this is the place to control the ICT menu display.
HKEY_LOCAL_MACHINE\SOFTWARE\Microsoft\Server Manager\oobe
Zero (0) disables the menu.
One (1) enables this setting, restoring it to the first logon setting.