Azure Storage is a cloud service that provides scalable, secure, cost-effective storage solutions for various data types. However, data stored in Azure Storage may still be vulnerable to service disruptions, accidental deletions, or corruptions due to human errors, natural disasters, or malicious attacks. Therefore, it is essential to have a backup and disaster recovery plan for your Azure Storage account.
One of the key features of Azure Storage is that it offers different redundancy options to ensure data durability and availability. You can choose from locally redundant storage (LRS), zone-redundant storage (ZRS), geo-redundant storage (GRS), read-access geo-redundant storage (RA-GRS), or geo-zone-redundant storage (GZRS) depending on your business needs and recovery objectives. These options replicate your data across different locations within or across regions to protect it from local or regional failures.
Another feature of Azure Storage is that it allows you to initiate a storage account failover in case of a disaster affecting your account's primary region. This means you can switch access from the primary endpoint to the secondary endpoint of your account, which is in a different region. This way, you can restore your data and resume operations immediately.
However, before you initiate a failover, you should consider some factors that may affect your data consistency, availability, and performance, such as the last sync time, the replication lag, the number of snapshots, and the data partitioning strategy.
If you are planning to failover an Azure Storage account from the primary to the secondary endpoint, start by selecting the "Redundancy" option from the "Data Management" section of your Azure Storage account. The next pane allows you to change your account's redundancy through the options in the "Redundancy" drop-down. On this page, click the "Prepare for failover" button. Finally, type "yes" in the Failover confirmation window and click the "Failover" button to initiate the failover operation. The following screenshot illustrates the relevant options used in operation: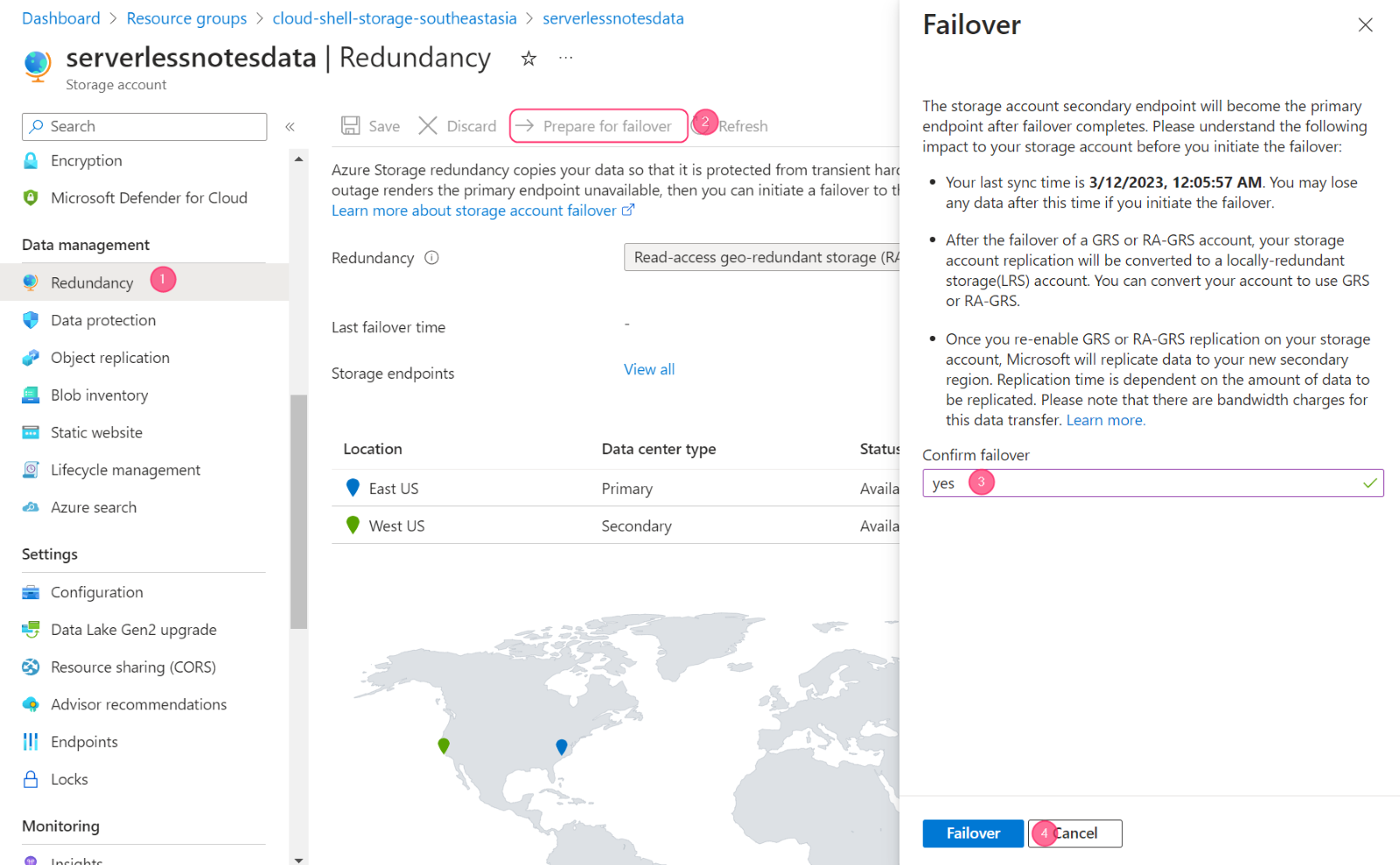 Fig1.Initiate the failover operation.
There are several other disaster recovery measures available for Azure Storage. The Microsoft documentation contains a comprehensive Azure Storage disaster recovery guide.